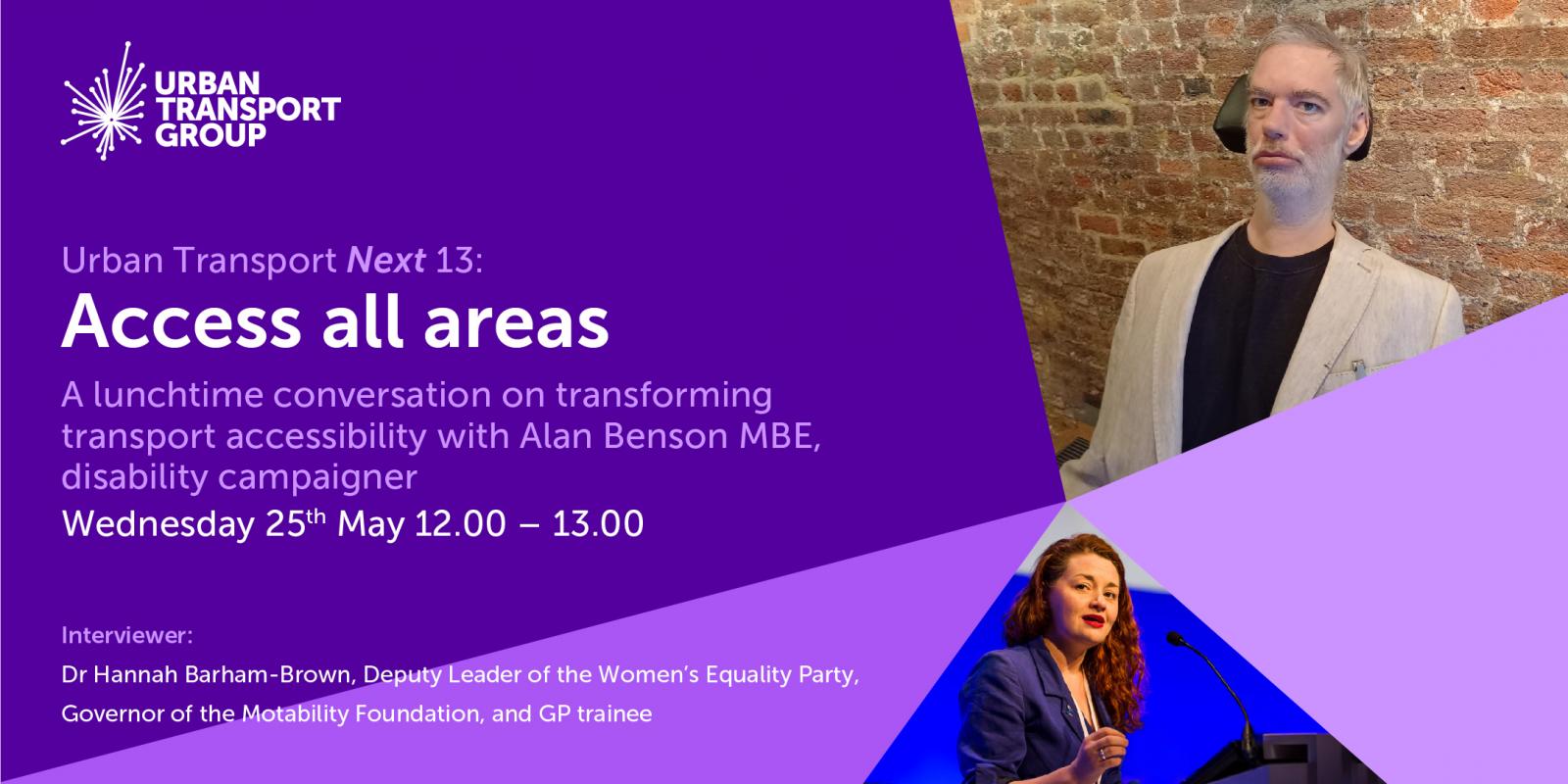 Urban Transport Next 13: Access all areas
In this episode, renowned disability campaigners Alan Benson MBE and Dr Hannah Barham-Brown shared a conversation on how to transform transport accessibility. The pair discussed their own experiences of using transport and how that has shaped their views and their campaigning work. They also spoke of the need to involve disabled people from the earliest design stage of new transport services or infrastructure, and to learn from existing good practice and tools.
You can listen again below...
You can also subscribe to the podcast on Podbean, Apple, Google or Spotify.
Alternatively, you can watch the conversation on YouTube.
About the panel...
Alan Benson MBE
Alan is a leading disability campaigner featured on the Shaw Trust's Disability Power 100 list of the most influential disabled people for three years. He also sits on the Board of Transport for All, London Travel Watch, Ruils and co-chairs the DfT's Inclusive Transport Stakeholder Group. Awarded an MBE for services to public transport this year, he is also a regular Tweeter.
Dr Hannah Barham-Brown
Dr Hannah Barham-Brown is a GP trainee in Yorkshire, Governor of the Motability Foundation, Council Member of the British Medical Association, and Deputy Leader of the Women's Equality Party. She is a Fellow of the Royal Society of Arts, and works to support disabled people in politics, employment, travel, health and education.
She co-hosts the 'Salty Women' Podcast with Olivier-nominated playwright and activist Athena Stevens, has been named as one of the Health Service Journal's 100 Most Influential People in Health, as well being featured on the Shaw Trust's 2018, 2019 and 2020 'Power Lists' – making her one of the 100 most influential disabled people in the UK.